I am a badass climber in my 80s that set a goal of 8 major ice and rock routes in my 80th year in different mountain ranges, raising money for Parkinson's and Alzheimer's disease research in the process.I'm happy to say, I completed those 8 climbs! Thank you for helping me reach my goal of 8 climbs by my 80th Birthday! I'm not done yet though!

The adventure continues! I will keep climbing throughout my 80s!

Contact Me for Projects!
Latest Adventures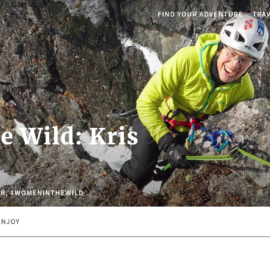 Whether she's at the crag, on top of a mountain, or on the beaches of her hometown, Kris Machnick has a daring vision that transcends the gender and age norms of her generation—hence... READ MORE
Torsetfossen: 100 meters, WI 4+ Classic Climb. First ascent Haakon Gammelseter and Tomas Carlson, 1978. Two long pitches, two long rappels. Substantial walk-in through the woods in snow shoes and crampons. Another great... READ MORE